Green Initiatives
Specialty Printing is committed to excellence and leadership in protecting the environment. In keeping with this policy, our objective is to reduce waste wherever possible. We strive to minimize adverse impact on the air, water and land through pollution prevention, paper recycling and energy conservation. By successfully preventing pollution at its source, we can achieve cost savings, maintain a safe and healthy workplace for our employees and improve the environment.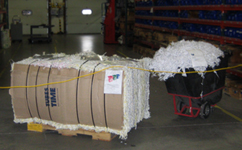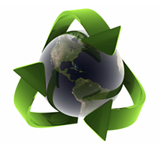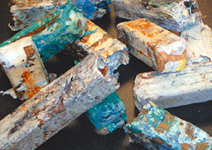 Specialty Printing's environmental guidelines include the following:
Environmental protection is everyone's responsibility. It is valued and displays commitment to Specialty Printing. We will commit to including pollution prevention and energy conservation in the design of all new products and services.
Preventing pollution by reducing and eliminating the generation of waste is a prime consideration for product and process design, along with plant operations. Specialty is committed to identifying and implementing waste prevention opportunities through encouraging and involving all employees, vendors and customers.
Printing technologies, methods, and raw materials that replace hazardous materials are given top priority in addressing environmental issues.
Specialty Printing in 2003 developed with Tri-Gen and International Paper Products, a recycling program for pressure sensitive label products, the first in the industry.
Our waste was previously incinerated in a burn plant prior to this program causing additional pollution and the generation of ash waste. Now over 85% of all waste is recycled and sent to a proprietary processing plant where it is turned into fuel bricks that are sold to energy companies as a fuel source. After the fuel bricks are burned, the remaining ash is then recycled and sold to asphalt companies for use in paving our roads. This unique program is now viewed in our industry as a model for all large label manufacturers.
Specialty Printing demonstrates its corporate citizenship by strictly adhering to all environmental regulations. We promote cooperation and coordination between industry, government and the public towards the shared goal of preventing pollution at its source.
Motion sensing and noise activated energy efficient lighting has been installed throughout our offices, manufacturing facilities and distribution centers.
We have invested in energy efficient HVAC systems to heat and cool our facilities and distribution centers. Internally generated process heat is used as an alternative to natural gas in our warehouses.
A company wide waste recycling program has been instituted for all domestic waste, bottles, cans, fluorescent lights, etc.
Designed and implemented a "Cradle to Cradle Program" with the U.S. Postal Service which was recently televised on TBS showing innovations they took to make an eco-friendly product.
Utilize environment friendly water-based printing inks to reduce the need for hazardous solvents and eliminate pollution recovery systems.
Working with customers to print post consumer recyclable materials where ever possible.
Managed waste reduction through press set up time reduction programs and quality control processes.
Invested in a non-hazardous chemical anilox and parts cleaning system for all press parts.
As previously mentioned, we believe Environmental protection is a shared responsibility. We welcome the opportunity to discuss additional potential programs with you.