Supermarket & Retail Labels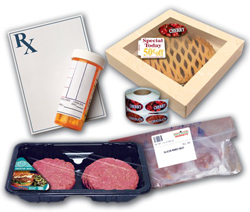 Our labels can be found in retail stores, grocery stores, hospitals and medical facilities, restaurants, distribution centers, and warehouses nationwide.
Specialty Printing is one of the few pressure sensitive label manufacturers that supplies labels, and other packaging products to Grocery stores on a national basis. Virtually every major grocery chain purchases labels from Specialty.
Specialty Printing can provide an ideal solution for your specific needs and requirements. From Custom Designed Labels that help sell your product, Stock Weigh Scale Labels, Coupon Labels, Pharmaceutical & Prescription Fulfillment Labels, and Gourmet Recipe Labels.
Within the Grocery area, Specialty has extensive experience with Deli Labels, Bakery Labels, and Meat Labels.
We can custom design a label that will work in virtually any application.
Contact Specialty Printing to find out how our extensive experience can help you by Creating Better Ideas.
Also check out our El Signage and New Innovations section.