About Specialty Printing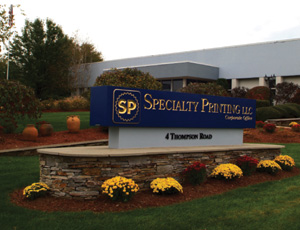 Since 1978, Specialty Printing, LLC has been one of the most diversified manufacturers of pressure sensitive labels and related products in the United States. Our labels, packaging, tags and electronic signs can be found in retail stores, grocery stores, hospitals and medical facilities, restaurants, distribution centers, post offices and warehouses nationwide.
Mission Statement
Specialty Printing is committed to providing its customer partners world class solutions and support with innovative products and service, designed to add profitability and long term values creation. We foster an internal culture based upon integrity, teamwork, accountability, initiative and the personal development of our people.
We strive to continually improve the effectiveness of our quality management system and our commitment to customer satisfaction by monitoring our performance against established objectives. This concept represents Specialty Printing's commitment to quality and the increasing need to better serve a growing and demanding customer base.
Specialty places a strong emphasis on being an environmentally friendly company as well as Lean manufacturing; being aggressively focused on these concepts for several years. We are ISO 9001:2008 Certified and have a comprehensive quality system which satisfies the most stringent customer requirements. Additionally, with extensive manufacturing capacity, the company is known for producing custom materials within lead times significantly shorter than its competitors.