Postal & Government Labels
Since the 1980's, Specialty Printing has been supplying multiple products for various federal contracts. Customers include agencies like the Department of Defense, Department of Homeland Security, U.S. Government Printing Office, NASA, and the U.S. Air Force Pharmacies to name just a few. In addition, Specialty has been the largest supplier of materials to the U.S. Postal Service for over two decades.
The Company is currently registered as an approved supplier per the Central Contractor Registration (CCR) process of ORCA, an e-Government initiative that was developed to replace the paper based Representations and Certification process for government contractors.
Because of our extensive and diversified capabilities, coupled with an extensive quality system which includes ISO 9000/2008 Certification, Specialty has been named a certified, global supplier to several government agencies and medical customers.
Capabilities include: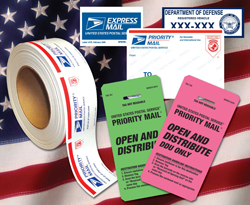 12 Color Flexographic printing with 4 color process designs
Use of water base, solvent based and Ultraviolet ink systems
UV Screen printing
+/- .005 tolerances
Inline rotary Die Cutting
Male / Female Punching
Consecutive Numbering and Variable Information
Medical Dosing
Product Bar-coding
Flat bed Die Cutting
Full finishing operations including sheeting, fan folding, boxing and shrink wrapping
Custom Coating with Pattern Adhesives
Film Over-Laminating
Contact Specialty Printing, LLC to find out how our extensive experience can help you by Creating Better Ideas.