Merchandising Labels
Merchandising Labels include labels for the following applications: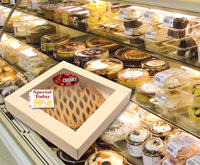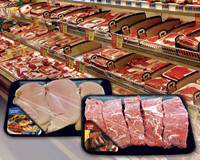 Beef, Pork & Poultry Labels
Value Pack Labels
Meat Coupon Labels
Bakery Coupon Labels
Deli Food Labels
Prepared Food Labels
Fresh Bakery Labels
DayGlo Grabber Labels
Bakery Flavored Labels
Premium Corner Recipe Labels
Stock Merchandising Labels: Specialty Printing stocks a wide variety of over 1,000 different types of "merchandising" labels. These labels are used for additional labeling of packages in the Meat, Deli, Bakery and Produce Departments. Everything from "Manager Special" Day-Glo type labels, to Corner Merchandising labels with Recipes and Cooking instructions to Coupon labels to Foil USDA stickers. These labels are sometimes referred to as "Grabber" labels and commonly are printed using Red Day-Glo, high gloss or Foil paper. Specialty Printing maintains floor stock of the most popular labels ready for prompt shipment, within 1 to 3 working days.
Custom Merchandising Labels: Custom labels allow the customer to change the preprinted formats, colors and size of any Merchandising label. The process for ordering "Custom Merchandising labels" includes creation of artwork (proof), proof approval, generation of printing plates and manufacturing of labels. Specialty Printing Ha a full Graphics / Design function and additionally has an in-house plate making department to help ensure all Custom Merchandising labels are processed in a timely manner. This total in-house operation allows Specialty Printing to produce and ship Custom Merchandising labels within 7 -10 working days or less after proof approval. We also over a "JIT" program for Custom labels that cut the lead time to 2-3 days.
Corner Merchandising Labels: Specialty Printing works closely with Trade Associations utilizing recipes, serving sizes, nutritional information, cooking suggestions, ingredients and naming standards to create our Corner Merchandising labels. Included in these unique
Rotating Recipes: Specialty offers up to six (6) different recipes within a roll of labels for all the stock corner labels. Recipes are updated with seasonal changes from Summer to Winter months.
Bi-Lingual Corner labels:We also carry a line of stock corner labels that contain Bi-Lingual information for the titles, recipes and cooking instructions. Click here for more information on Bilingual Labels.
Contact Specialty Printing, LLC to see how we can help create a better idea for your Merchandising Label needs.